Golf Experiences is proud to announce our partnership with Quintess Collection, bringing you an extraordinary selection of private homes in stunning locations near some of the world's most beloved golf courses.
This exciting addition provides golfers with unparalleled freedom of choice for their golf vacations and getaways with friends, family, or buddies. Whether you're looking to escape with your golf buddies for a weekend of friendly competition or planning a family vacation where everyone can enjoy their own space, these private homes offer the perfect solution. Imagine waking up in the morning to breathtaking views of the rolling green fairways, sipping your coffee on the patio as the sun rises, and then heading out for a day of golf on a world-renowned course just minutes away.
But it's not just the proximity to the golf courses that makes these private homes so special. Inside, you'll find spacious accommodations that are designed to cater to your every need. With multiple bedrooms and bathrooms, there's plenty of room for everyone to spread out and relax after a long day on the course. The fully equipped kitchen allows you to prepare your own meals, giving you the freedom to dine in whenever you choose. And when it's time to unwind, you can retreat to the privacy of your own living room or enjoy a soak in the luxurious pool right in your backyard.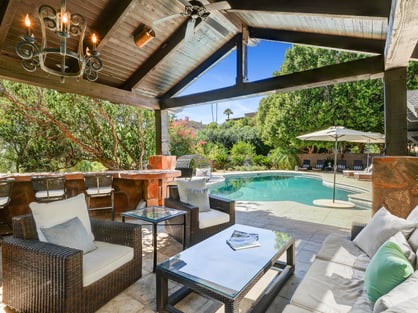 In addition to the exceptional amenities provided in these private homes, the surrounding locations offer tranquility and serenity that will make your golf vacation truly unforgettable. Whether it's the peaceful sound of waves crashing on the nearby beach or the gentle rustling of leaves in a secluded forest, you'll find yourself immersed in nature's beauty. And when you're not golfing, there are plenty of other activities to enjoy, from hiking and biking to exploring local attractions and dining at gourmet restaurants.
Booking these incredible homes is now easier than ever. With our seamless integration with Quintess's cutting-edge technology platform, you can browse through a wide array of market-segmented homes and find the perfect one for your golf trip. Embark on the golf getaway of a lifetime with just a few effortless clicks.
So why settle for a cramped hotel room when you can have the luxury and comfort of a private home? Take advantage of this unparalleled freedom of choice and create memories that will last a lifetime. Whether you're a seasoned golfer or just starting out, these private homes near world-class golf courses are waiting to welcome you. Start planning your golf vacation today and get ready to tee off in style!
---
---