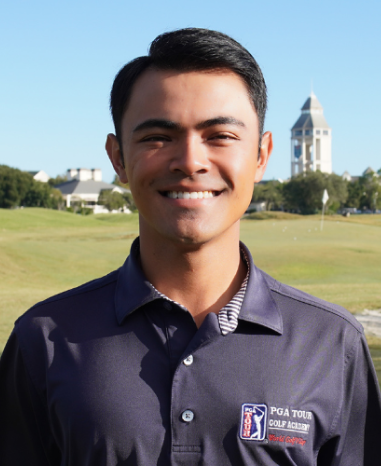 Din Fuad
Certified Instructor
---

Our golf instruction experiences are hosted at The PGA TOUR Golf Academy in St. Augustine, FL.
Din Fuad is a Staff Instructor at the PGA TOUR Golf Academy focusing on Golf Instruction, Golf Operations, and program development. Prior to joining the PGA TOUR Golf Academy, he played 4 years of Division I Men's Golf for South Dakota State University while earning his Bachelor of Science degree in Sports, Park, and Recreation Management.
Din has also spent time leading golf camps for the 1MalaysiaFoundation program in his home country of Malaysia and learning how to teach the game from PGA TOUR Golf Academy instructors over the past 7 years.
Driven by his passion for golf, Din takes pride in providing the best golf instruction to his clients. Whether you are a beginner or a seasoned professional Din enjoys teaching golfers of all skill levels the importance of setting goals, how to achieve success, and most importantly enjoying the game.
To book your instruction experience with Din Fuad, click one the below link or call 904-940-3600
What Din's Students Have to Say
"Din is a great teaching instructor for my son. He may it easy for my son to understand how the golf swing works"
"That was the best, most professional and caring golf instruction I have ever had. Din was excellent and explained things to us we never thought of. He is a top notch instructor."
Custom Golf School with Anne Cain
"Amazing communication and lots of time spent on us. Awesome customer service and you can tell Din really cared."
Custom Golf School with Anne Cain
"This far exceeded my expectations. Din did a great job evaluating my swing and provided drills that are easy to repeat and that provided easy feedback to determine if you are executing them correctly. His advice was very specific to my game, age and physical abilities. Also he was very personable and fun to work with. I plan on returning for a followup."
Custom Golf School with Anne Cain
"Din was my instructor and demonstrated great personality traits while teaching. Very good lesson which has helped me improve my game. Thanks Din"
Custom Golf School with Anne Cain
"After a couple lessons with Din, I shot a career low round!"
Custom Golf School with Anne Cain
"The instructors were amazing. They explained the reason I was having trouble and provided the solutions that improved my game by leaps and bounds or should I say yards..Whether you are a resident or a visitor to the area (as I was), I highly recommend taking advantage of the expertise provided. You can take individual lessons, group lessons, or set up specialized troubleshooting lessons. A special thanks to Din and Rhonda for making my golf game more enjoyable and less stressful."
Custom Golf School with Anne Cain
"I believe Din Fuad did a great job of assessing our style of hitting the golf ball and then made changes that improved our swing. This is exactly what we wanted and now we can continue golfing and improving our game. When we return to St. Augustine, we will definitely look into taking another lesson with Din. Also a shout out to Luke as he was our first introduction to the Academy. He was happy and pleasant as he made our appointment."
Custom Golf School with Anne Cain
"Din Fuad was outstanding. He was personable, observant, patient and insightful. He helped my game immediately."
Custom Golf School with Anne Cain
"Din was awesome! Very patient, clearly explained the methodology of the short game and helped enormously while I practiced. Saw immediate results when playing."
Custom Golf School with Anne Cain